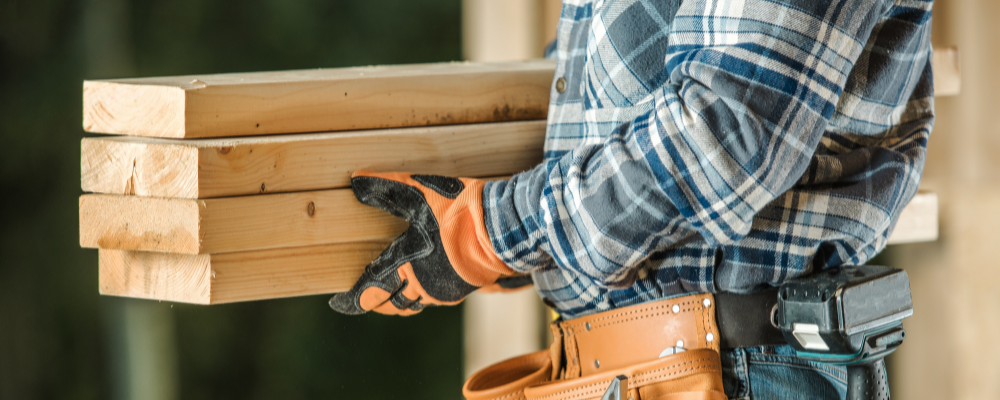 Get the Job Done Right: Finding Contractors in Cottage Country
Maintaining and enhancing your property in cottage country is an ongoing journey. Whether your planning home renovations, building a deck, hiring a plumber or electrician, or tackling any other home project, finding the right contractor is a crucial step in bringing your vision to life. This blog offers valuable tips to assist homeowners in cottage country with the process of selecting the right contractor or tradesperson for their needs, for a smooth and satisfying experience. 
Being hardware store owners and cottage country residents, we've picked up some handy tips along the way to help you find the perfect tradesperson - and we're eager to share: 
Over the years, we've worked with fantastic local contractors on many home projects, and we've gathered our best tips to help you do the same!
Consider What Projects Need To Be Completed
Before you start the process of finding a reliable contractor, figure out exactly what projects you need done. It's important to do this step first, as it can get expensive quickly when you change your mind about details mid-project!
Take some time to think carefully about the area(s) of your home you want to renovate. How do you want the area to look once it's completed? Are there parts of the process or features that are non-negotiable for you? Make note of these details! Having a clearly written and detailed list makes it easier to find a contractor that is the perfect fit for your project.
Find Trusted Professionals
Once you're clear on your project outcome, it's time to start looking for a contractor to hire. Not sure where to find a reliable tradesperson? Here are our suggestions:
Look At Your Local Hardware Store OR Building Centre
At our hardware store, we often have cottagers or homeowners who come in and ask if we know a good electrician, plumber, or other home renovation professional. We have a pegboard in-store with subcontractor business cards to point customers to when they're in need! So check in with your local hardware store or building centre to see if they offer a similar service, or if any of the staff have any recommendations.
Word of mouth
Asking for referrals is a great way to get a trusted recommendation! Ask your neighbours or try searching in any local Facebook groups for your community. Whether a contractor or tradesperson has a good or bad reputation, you're going to find out when you start asking around in your community. 
Search Online
Check out your local business directory to find painters, contractors, architects, and other home professionals in your area. Google is an easy way to find multiple contractors in your area at once– simply search for "[type of contractor] near me".
Ask Contractors You See In Your Neighborhood
See a contractor working in your area? Approach them and ask for their card! We did this ourselves recently when we saw a window-washing business and a pest control company in our neighbourhood. It's a great way to see the contractor's work before you hire them. Alternatively, if you're in need of some caffeine, you can kill two birds with one stone by finding the local coffee shop that tradespeople frequent in the morning before heading to their jobs! 
Do Your Research
Once you get recommendations, it's important to do your own research for each contractor before hiring them. Make sure you look at:
Open and Honest Communication
Trust is an important part of your relationship with your home renovation contractor. You should feel confident sharing any feedback and trust that they can bring your dreams to life.
Check  For Credentials and Licenses
Don't forget to make sure your contractor can legally complete your project! Ask for and verify any credentials of any contractors before you hire them. In Ontario, certifications or licenses can vary depending on the trade and municipality, but any trustworthy contractor should be more than willing to prove they have them.
Look For Feedback
Finally, read testimonials and ask for references from previous customers. Search for testimonials online on Google, social media, or on the company website. A reliable contractor should have no problem providing customer references before you hire them.
 
When reviewing testimonials and references, pay attention to how the contractor's former customers talk about their work. Is the contractor reliable and always meeting deadlines? Are they consistently and clearly communicating with their clients? Do they finish their projects without cutting any corners? Seeing positive feedback like this in testimonials is a great sign that the contractor is consistently reliable.
Get An Estimate Before Proceeding
Once you've done your research, it's time to get an estimate. Share the detailed project list you created with your contractor for them to give you an accurate estimate.
 
If it's a pricey project with a long timeline, we recommend you get written estimates from at least three contractors before proceeding. Compare the estimates by looking at the pricing, the timelines, and the project outcomes.
When getting a written estimate, make sure it includes:
A list of the work required to complete the job. Make sure this includes everything you've communicated with the contractor
The project timeline (specifically, when the project will start and end)
The full cost of the project

 If anything is not specifically included in the estimate, clarify with your contractor if it will cost extra (or potentially take more time).
Consider the Contractor's Availability
Once you've done your research, review the timeline provided by each contractor in your written estimates. Do these timelines match up with your renovation needs?
Keep in mind, home renovation projects often require multiple professionals, including designers, electricians, and other subcontractors. Make sure the contractor you choose has availability and can complete your project within the agreed-upon timeframe. You don't want to work with a contractor who has overbooked themselves and will inevitably have delays in your project.
Most importantly, don't forget to plan ahead of time! Tradespeople are extremely busy right now, and it's worth it to be patient and kind for an excellent project outcome. Don't burn bridges with a reliable tradesperson– they can be difficult to find, and they speak amongst themselves.
Ask Questions!
Lastly, before hiring any contractor, remember that it's okay to ask questions. Any professional should be more than willing to answer any and all of your questions before you sign a contract.
Here are some questions you can ask before hiring:
What happens if there are delays? How do you communicate about delays in projects?
Have you worked on similar projects before?
What happens if there are changes to the scope of the project?
Finding the perfect contractor for your cottage country project can be a challenge, but with these tips, you're sure to be pleased with the outcome!
 
Local to Kawartha Lakes? Visit us in store at Bobcaygeon Home Hardware to get great project advice from our experienced staff! 
Sincerely, Roger and Rose