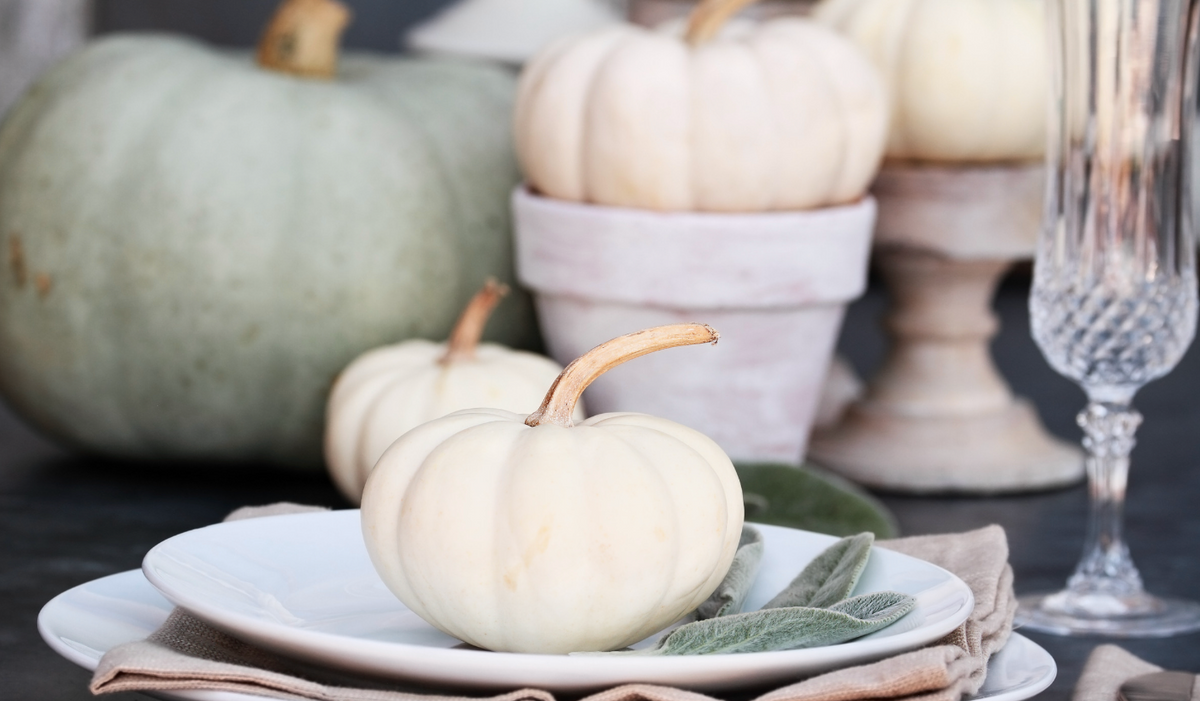 Fall Into Style: Home Decor Trends You Want to Know
One of the things I love about living in cottage country is that it brings with it this wonderfully relaxed, laid-back vibe that extends to both my home and my wardrobe. 
What I truly appreciate about this lifestyle is the freedom from the pressure to keep up with the latest runway trends or the glossy pages of modern home decor magazines. 
Instead I get to focus on the natural beauty that surrounds me everyday.
But, you know what? I still love to keep things fresh and inviting, whether it's my closet or my living space. Classic pieces are my go-to, but I can't resist peeking into the latest trends to see if anything grabs my attention.
This ritual has been with me since my teenage years. Every fall, I set aside a quiet Sunday to flip through magazines, getting the scoop on what's going to be hot in the upcoming season. Back then, I'd even cut out cool photos to create a scrapbook that guided my back-to-school shopping trips to the Toronto Eaton Centre, a highlight of the summer!
When Roger and I first started our life together, I followed the same process for decorating our home, tearing out pages from the latest issue of House & Home. These days, it's become much simpler with Pinterest and mood boards, which allow me to capture those trends I love while maintaining the timeless and cozy vibe that defines cottage living.
Recently, while Roger and the boys were off on their long weekend fishing trip up north, I had the perfect opportunity to dive into my annual Fall tradition. 
I cozied up on the couch in my favourite sweatshirt with a mug of hot tea, lit a pumpkin spice candle, and opened my laptop to determine what's on trend for Fall 2023. And guess what? 
I thought you might be interested in what I uncovered.
Pssst. Be sure to keep on reading because, at the end, I'll also be sharing my Pinterest Board for added inspiration!
Trends in Home Decor for Fall 2023
Earth Tone Colour Palette :
Images from Indaba's Fall Collection
So, let's explore the the first trend that caught my eye: earth tones. Gone are the days of gray and cool colours dominating the interior decorating scene. There's definitely a clear shift towards gentle, warm, and soothing hues. Think about shades like oatmeal, sand, camel, rich browns, caramel, moss green, and honey yellow. It's all about drawing inspiration from the natural world, which, as you can imagine, suits our cottage country setting beautifully. I also noticed a pop of blue in some of the home decor inspiration I came across. Not the bright blues of summer, but a deep, inviting navy blue which can be such a complimentary backdrop to the lighter, more organic colours.
Indaba Fall Collection
While the classic reds and oranges of Fall will forever hold their charm (I will never tire of decorating with pumpkins!), there's a noticeable trend in home decor towards a more refined and subdued colour palette. It's all about embracing softer tones that create a serene and welcoming atmosphere.
More Formal Dining Table Settings :
Another noteworthy trend that caught my eye is the comeback of a more formal dining table setting. I couldn't help but notice the elegance that's making a comeback—tapered candlesticks, thoughtfully designed centrepieces, special napkins neatly arranged on each place setting. 
I also noticed a lot of dining settings with stoneware plates, and smokey or amber coloured glassware which I love!
It's as if the art of entertaining around the dining table has undergone a delightful upgrade, elevating the entire experience.
While I certainly look forward to setting a beautiful table for guests, I have to admit that my cottage country home might not be the best fit for all of these formal trends.
Nonetheless, I'm truly inspired to bring some of that inviting magic into our dining area, especially when it comes to lighting a candle.
It's all about creating an atmosphere that captures the warm and cozy spirit of our cottage life.
Emphasis on the Richness of Textiles :
As we transition into the Fall season, it's become a natural ritual to swap out the lighter textiles in our homes with heavier ones. With the days getting cooler, we instinctively yearn for that extra layer of warmth and comfort. And cozy socks! This year, that cozy tradition is taking on a whole new dimension with the emphasis on rich textures. While the colour palette may lean towards the more monochromatic, it's the layers and the abundance of textures that infuse our spaces with visual intrigue. It's these layers that create a wonderfully warm and inviting atmosphere, making our homes feel like a comforting embrace.
Image from Indaba Fall Collection
In terms of fabric, there's a lot of wool, luxurious velvet, cashmere, boucle and even the comeback of the quilt (check out Pottery Barn's bedding). It's not so much about bold patterns and colours; it's about the pure joy of texture itself. So, while our colour palette might lean towards the calm and neutral, it's the layers and the mix of textures that truly make our spaces pop with visual charm. These layers craft the coziest, most inviting atmosphere, making our homes feel like the warmest hug.
Artisan, Handcrafted Inspired Objects :
I noticed a trend that continues to be strong as we move into Fall—the artisan, handcrafted-style decor pieces that really emphasize texture and simplicity. Some of my inspirational favourite stores like McGee & Co. and Pottery Barn have quite a collection of these visual, texture-focused home decor objects, typically terracotta vessels featured in a cream or black finish. I also notice this as a popular shape for table lamp bases. Not only do these decor pieces carry a nice weight and visual appeal, but they also maintain that organic feel. I appreciate their straightforward, unfussy shapes that blend into our living spaces, creating an inviting and cozy atmosphere.
Image from Indaba Fall Collection
Woven Materials :
I have this tray and we carry it at our store! Love it!
Woven materials have become a hot trend in the world of home decor. From the woven cane back of a kitchen island stool to the rattan detailing on a nightstand or the weave of a home decor tray, it seems like everywhere you look, this design element is being incorporated. The best part of this trend is that it can be incorporated at any level, making it easy for anyone to add a touch of style to their home. 
One reason we embrace woven materials in our decor is the visual interest created by the intricate patterns of the weaving can add depth and dimension to a room. Another great aspect of woven materials is their versatility. They can be used in a variety of ways, from small accents like placemats or baskets, to larger statement pieces such as chairs, coffee tables or headboards. They also come in a range of styles and colours, making it easy to find a piece that fits your personal taste and aesthetic.
Whether you choose to go big or small, this trend is sure to make a statement and create a warm and inviting atmosphere.
Image from Indaba
Dried Grasses, Floral Stems and Branches in Muted Colours :
Another trend that's noteworthy is the widespread use of dried grasses, floral stems, and branches. But this year, it's all about embracing a muted palette. You won't find those seasonally specific oranges and reds here. Instead, we're talking about subtle, earthy tones like muted greens, soft browns, wheat hues, and touches of rust and gentle yellow. It's a departure from anything bright or bold and brings a serene, natural feel to our living spaces. I like it especially as I first introduce Fall into our home but I must admit as we get closer to Thanksgiving and Halloween there will always be room for the more traditional orange.
Worn Leather and Natural Wood :
And speaking of trends that are still going strong, I can't help but mention the continued popularity of worn leather and natural wood. It's a trend I spotted last year, and it's showing no signs of fading away this year. Whether it's a simple tray, a rustic plate, a charming bowl, or a piece of furniture, the key here is that worn, weathered look. In particular, cognac and rich brown leather pieces are in the spotlight. It's like we are craving the beauty of natural materials that tell a story over time.
Image from Indaba
Image from Indaba
Unique Decor Shapes :
And don't forget about the trend of unique decor pieces that really "shape" up our spaces. These items often prioritize visual interest, even if they don't serve a specific function. Have you noticed the emergence of handcrafted wood chain links or mango wood garland or a marble book ends as intriguing decor accents? And the shapes – some very abstract, others softer like infinity loops – each with its own quirky charm. Think of candlestick holders and vases as more like small sculptures, and they come in these subtle, muted colors. These pieces are all about infusing a touch of visual interest, creativity and form into our living spaces.
So, there you have it—some of the captivating Fall home decor currently trending. But here's the thing: you don't have to feel obligated to incorporate all of them. These trends are here to inspire, to ignite your creativity, and to offer a starting point in making our homes cozier and more inviting, especially here in our cottage country haven. In fact, achieving these trends can be simple and budget-friendly—a honey-colored candle on a wooden plate, a dried floral arrangement, or branches from your own backyard can work wonders. Ultimately, it's not about keeping up with the latest fads; it's about letting your decor reflect you, your unique style, and what truly resonates with your heart.
And if you find a moment to curl up on the couch with a hot drink and cozy blanket, be sure to check out my Fall Decor Pinterest Board for further inspiration!
Sincerely, Rose