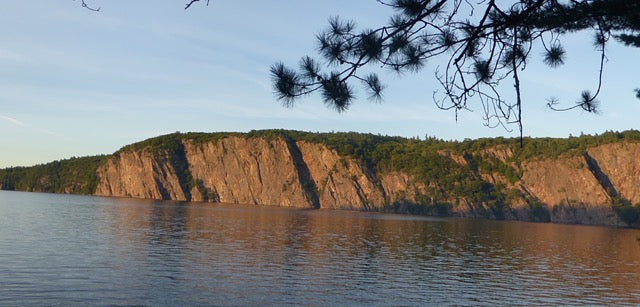 Our Camping Memories and Must-Haves
We have so many fond memories of our family summer camping trips to Bon Echo Provincial Park. For many years, we'd religiously book a week off in August to go camping at Bon Echo, one of Ontario's most breathtaking and beautiful places. Often times our parents and siblings would join us. The more the merrier when it comes to camping! The majestic rock cliffs and pictographs at Bon Echo are simply stunning, and canoeing along that cliff was an experience we'll never forget. It was a privilege to be able to camp there and enjoy the amazing scenery.
Our camping trip was a perfect blend of adventure and relaxation, with plenty of outdoor activities and breathtaking scenery.
Our camping trips to Bon Echo would be filled with picturesque hikes and stunning views of the rocky Canadian Shield landscape. A highlight is hiking to the top of the Bon Echo Rock which offers a panoramic view of Lake Mazinaw and the entire provincial park. We often would pack a picnic and try to make a day of it. However, when the boys were younger, they were not always cooperative, as they preferred to play on the sandy beach and swim so sometimes the hikes would be cut short.
After a day full of outdoor activities spent hiking, canoeing along the Bon Echo Rock to look at the pictographs, or swimming, we'd be ready for relaxation. Of course we'd still have chores to do like lugging the water jug to the water station to fill it up, wiping down the picnic table, and firing up the old Coleman camp stove. But even the chores seemed fun because of the novelty of doing it all outdoors. The best part of being back at camp was getting the fire started. Even if it was still day light the boys would gather round and start making S'mores. It set the stage for an evening full of great stories and laughter!
Our week-long camping trip was a blast, but staying organized was a challenge, as always. By the time we set up camp and unpacked all the gear, things quickly became scattered and messy. The picnic table served as a makeshift kitchen and dining area, and it was soon taken over by our essentials: the water jug, plates and utensils, camp stove, tin foil, paper towel, card games, coffee and more! And the boys would always play fort in the tent and get dirt all over! Despite the initial hurdle, we were able to find ways to make it work and have a memorable trip.
Few things would be more irritating than arriving at our campsite only to realize we'd left behind an essential item. It happened every year! Once, we brought our Coleman camping stove but forgot the propane cylinders. Another time, we left behind the plastic wash bin and camping dish soap. How are you supposed to wash all those blue enamel camping dishes! Remember them? However, nothing compared to the time we forgot to pack the tent repair kit- a crucial item to patch up any leaks during a rainy night. We also forgot the air pump for our air mattresses one year, which made for a rough and sleepless night. Perhaps the worst thing to forget though was the coffee percolator and coffee, especially after a sleepless night due to racoons getting into the coolers.
Our boys favourite memories of camping are likely different than ours. From trying to catch and feed tamed chipmunks and riding their bikes around the campsite loop, to wading out into the sandy beach for a game of frisbee and lighting the kerosene lantern at night to sit around the picnic table to play Uno. 
The boys would be soooooo dirty (and so would the dog) within the first hour of being there, but they loved nothing better than being in nature and living outside. All that dirt would drive Roger a bit crazy because he is a "neat freak" and, if you can believe it, he would pack a portable vacuum to clean the tent floor. 
Roger would probably say that his least favourite camping memory was setting up the tent. In the early years, putting up the tent often led to a few disagreements about the best location, tying it down, and whether to put the rain flap on or use tent pegs. The first hour or two of setting up camp was always stressful, but once everything was in place – including the sleeping bags and the kids playing with their toys – we were able to breathe a sigh of relief and relax, taking in the beauty of our surroundings. And perhaps a cold bevvie out of the cooler. Funny how we never forgot ice or drinks!
At our store, we often have customers looking for camping gear. As we take them to the camping aisle, it reminds us of our own past family camping trips. So many of the camping products that Home Hardware carries are the same ones we used to use all those years ago including the blue enamel dishware and the Coleman camping stove! Although we haven't been camping in years due to our busy lives and the boys growing up, we hope to resume this annual tradition when life slows down. Perhaps someday, we'll even get to take grandchildren along for the adventure!
While we wait, we wanted to share a list of some great camping essentials available at Home Hardware that may come in handy for your upcoming camping trips:
Sincerely, Roger and Rose