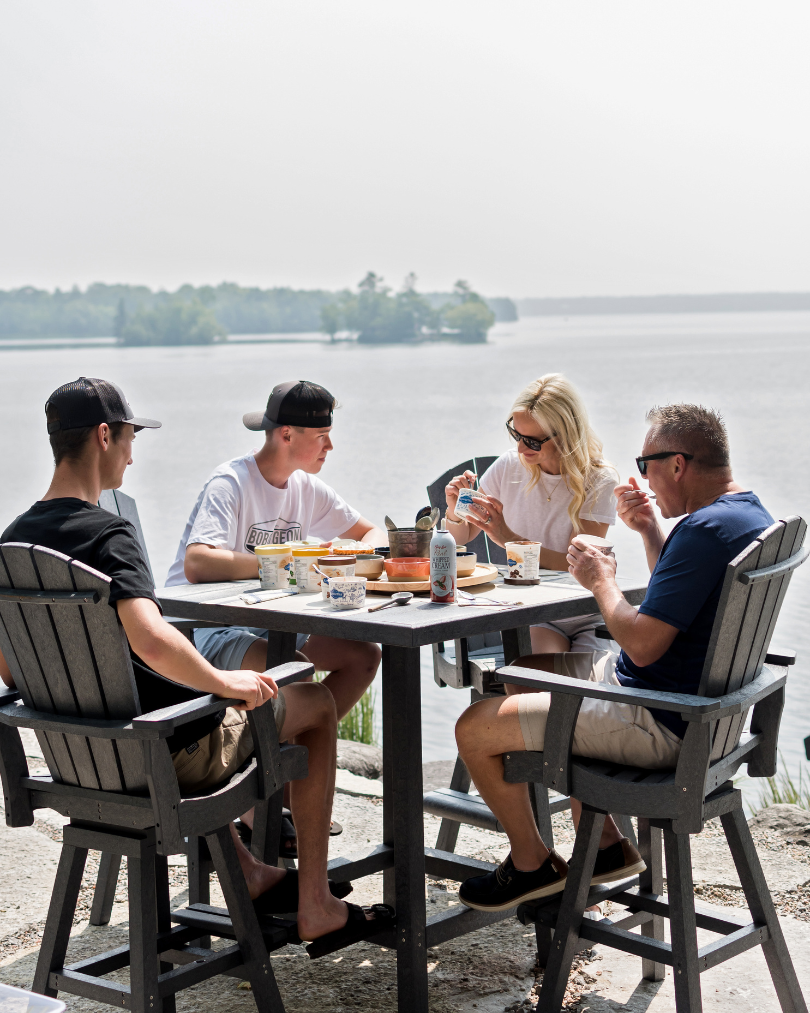 Tips for Cleaning and Storing Your Recycled Plastic Outdoor Furniture
Recycled plastic furniture has become increasingly popular over the years due to its durability, low maintenance, and eco-friendliness.
Living and owning a business in cottage country we understand the importance of sourcing and offering a durable, comfortable, sustainable outdoor furniture and that's why we became a dealer of C.R. Plastics. We chose this company because it's a Canadian company (manufactured in Stratford, Ontario), offers a premium product with designer looks and is environmentally conscious. That's the great thing about recycled plastic furniture - it offers a sustainable way of living.
Image from C.R. Plastics
Did you know? More than 8 million tons of plastic is dumped into oceans each year. Each C.R. Plastics Adirondack chair is made from from 579 milk jugs.
We recently updated our own outdoor furniture to C.R. Plastics and we are thrilled with the high-quality look, the comfort factor (it's really, really comfortable!) and how cohesive it looks on our deck and covered patio. One of the standout features of C.R. Plastics is its variety of styles and colours. From Adirondack chairs in both a traditional and modern style, to dining and pub sets, there's something for everyone. The furniture is also customizable, so you can choose the style, colour, and fabric that best suit your style.
Our recycled plastic furniture has brought us a lot of enjoyment this summer! We have spent many relaxing moments lounging on the comfortable sofa, chatting or reading while sipping on refreshing drinks. Whenever we have guests over, they love to gather in this cozy seating area, drawn in by the comfortable cushions. Dining outdoors has also been a treat, as the dining table provides us with ample and comfortable seating. Roger, in particular, loves to entertain his friends at the bar table because it creates a relaxed and casual atmosphere.
 
Sadly the summer season is inevitably winding down and it's time to start thinking about cleaning our outdoor furniture so that we can put it away until next year. It is so important to take proper care of outdoor furniture to ensure it lasts for many years to come. So we wanted to share with you our tips on properly cleaning and storing your recycled plastic furniture:
First and foremost, it's important to clean your recycled plastic outdoor furniture at the end of the season. Ideally you have been cleaning it regularly throughout the summer season to prevent dirt and debris from building up. But you still want to do a final clean before storing it for the off-season.
To begin this process you need to remove any cushions or accessories from the furniture and make sure they are packed in a manner that mice or other pests won't be able to get at it. Rodents love the stuffing in cushions to build their nests and there's nothing more upsetting than pulling out a cushion after a long winter to find holes made by mice! In past years we have stored our outdoor cushions in extra durable garbage bags and placed fabric softener sheets inside of the bags to deter rodents. We tightly tie the bags so there's no way for pests to get inside. Some of our customers have told us they use moth balls or cedar balls as a deterrent. Ideally you want to store the cushions indoors. Perhaps a basement or garage.
To clean the recycled plastic furniture start by removing any loose debris with a soft-bristled brush or cloth. Then, mix a solution of mild soap and warm water and use a clean cloth, sponge or soft bristle brush to gently scrub the furniture. You can also add a cup of baking soda and a few tablespoons of vinegar to your solution. Rinse thoroughly with clean water and then allow the furniture to air dry. However, avoid using harsh chemicals or abrasive cleaners as they can damage the plastic!
It's important when you go to store your outdoor furniture for the off-season to make sure it's completely dry. It's a good idea to wipe a dry cotton cloth over the surface right before storing.
CAUTION:  Although it is very tempting, do not use a power washer to spray off your recycled plastic furniture. If you place the nozzle too close the high pressure of water can damage the finish and leave it susceptible to dirt, permanently staining it and making the finish look and feel fuzzy.
Even though recycled plastic outdoor furniture is designed to withstand harsh weather conditions such as snow and ice it is still ideal, if possible, to store it in a covered area such as a shed or garage. This is definitely a best practice. Another option is to cover it with a protective, weather-resistant material. Admittedly, there have been years we didn't get around to putting ours away in the garage and the furniture was left exposed to winter weather. The furniture was certainly fine but we did have to give it a really good clean in the Spring.  
Image from C.R. Plastics
Image from C.R. Plastics
You've made an investment purchasing recycled plastic furniture and by taking proper care of it you can keep it looking great for years to come!
Sincerely, Roger and Rose